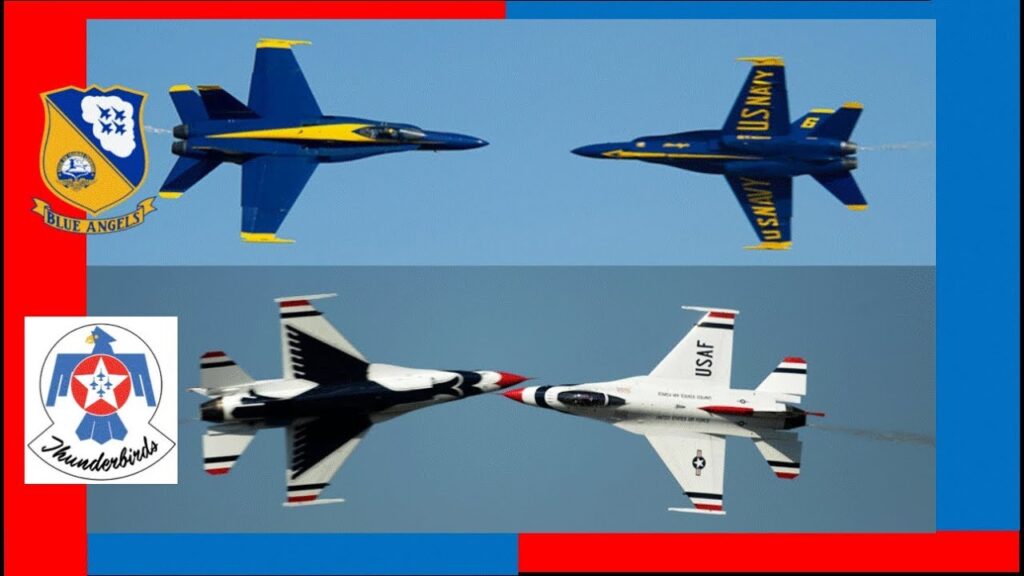 As we have first reported earlier this week. The US Navy Blue Angels and US Air Force Thunderbirds are going to be doing a joint fly-over the area as apart of Operation America Strong. The Blue Angels and Thunderbirds will fly jointly over Washington, D.C., Baltimore, New York, Newark, Trenton, N.J., Philadelphia, Atlanta, Dallas, and Houston and Austin, Texas. All to show thanks during this Covid-19 pandemic to our healthcare and essential workers.

The flyover will be on Tuesday April 28th over the Greater Philadelphia Area.

Press Release from the United States Air Force:
The U.S. Air Force Air Demonstration Squadron, the Thunderbirds, and the U.S. Navy Flight Demonstration Squadron, the Blue Angels, will honor frontline COVID-19 responders and essential workers with formation flights over New York City, Newark, Trenton and Philadelphia April 28.
"We are truly excited to take to the skies with our Navy counterparts for a nation-wide tribute to the men and women keeping our communities safe," said U.S. Air Force Lt. Col. John Caldwell, Thunderbird 1 and mission commander for the flyover. "We hope to give Americans a touching display of American resolve that honors those serving on the frontline of our fight with COVID-19."
A formation of 6 F-16C/D Fighting Falcon and 6 F/A-18C/D Hornet aircraft will conduct these flyovers as a collaborative salute to healthcare workers, first responders, military, and other essential personnel while standing in solidarity with all Americans during the COVID-19 pandemic.
"We are incredibly honored to have the opportunity to salute those working on the frontline of the COVID-19 response, we are in awe of your strength and resilience," said Cmdr. Brian Kesselring, U.S. Navy Blue Angels commanding officer and flight leader. "Thank you to all of those in essential industries keeping our nation moving forward. We will get through this. We are all in this together."
This mission, the first of several planned over the coming weeks, is the culmination of more than a month of planning and coordination between the two teams and numerous city and government offices.
Residents along the flight path can expect a few seconds of jet noise as the aircraft pass overhead, along with the sight of 12 high-performance aircraft flying close in precise formation.
Flyovers in Trenton will start at 1:45 p.m. (EST) and last approximately 10 minutes.
Flyovers in Philadelphia will start at 2 p.m. (EST) and last approximately 20 minutes.
Residents in these areas will be able to see the flyover from the safety of their home-quarantine and should maintain all social distancing guidelines during this event. They should also refrain from traveling to landmarks, hospitals and gathering in large groups to view the flyover. A detailed flight route will be released on the day prior to the flyover.


The Original Flight Path From Last week is as follows: SUBJECT TO CHANGE

The United States Navy Blue Angels and United States Air Force Thunderbirds will be doing a combined Fly-BY. They will be conducting a low level flight (500- 1000 agl) when this does happen from TTN to ILG.
This historic formation will consist of 12 aircraft: 6 USAF F-16s and 6 USN Blue Angels. They will fly in two 6 shape diamond formations.. Each diamond will be around 1 minute in trail and have smoke streaming from all aircrafts.
This run will begin at Joint Base McGuire/Dix/Lakehurst then onto Trenton. Then fly south over the Delaware River, over the Ben Franklin Bridge with a right hand 360º turn over Center City. They will exit the Downtown Philadelphia Area and follow the River past Philadelphia International Airport towards Wilmington De.
Additional Information will be updated as needed!